Na de 2 oefenwedstrijden waaronder de indoor race DragonTrek in Alkmaar en de 11 kilometer lange tocht op de Vecht voeren we afgelopen zaterdag in Zoetermeer eindelijk de officiële  start van het Nationale wedstrijdseizoen.
Goede herinnering aan Zoetermeer
Volgens traditie organiseren onze vrienden van The Dutch Dragons de eerste wedstrijd voor de NDBF cup, zo ook dit jaar en wel op 22 april 2017. In het allereerste jaar van de River Dragons reden we kort na onze oprichting licht zenuwachtig richting Zoetermeer. Als nieuwbakken drakenboot vereniging zouden we daar voor het eerst strijden tegen andere, officiële wedstrijdteams. Onze doelstelling was toen al winnen maar met een nieuw team met nieuwe peddelaars en weinig wedstrijdervaring moet je nog maar afwachten of je in die korte periode iets hebt kunnen bereiken. We voeren voor ons doen de sterren van de hemel, wonnen onze eerste race en plaatsten ons uiteindelijk op 2 afstanden achter een Duits team en The Dutch Dragons als 3e. Onderweg naar huis overheerste euforie, weliswaar een nieuw team maar met 2 bekers in the pocket, ook een team met kennis van een kunstje.
Weer de 1e NDBF race van het jaar in Zoetermeer
Afgelopen zaterdag reden we dezelfde route richting het inmiddels welbekende wedstrijdterrein. We zijn al 6 jaar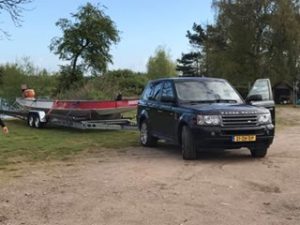 verder sinds onze eerste race en wat is er veel veranderd in die tijd. Terwijl we in de auto zitten halen we herinneringen op over die eerste wedstrijd. Toen hadden we geen eigen boot, geen eigen peddels, geen tent om tegen het slechte weer te schuilen en geen jasjes. Alleen een team met rode T-shirts zonder bedrukking. Nu rijden we met onze eigen prachtige boot op een super luxe door Autoschade Ruud de Jong gesponsorde trailer, zijn onze wedstrijdpeddels verpakt in prachtige gesponsorde peddeltassen en loopt iedere peddelaar trots in z'n eigen Rivers jasje met z'n eigen rode wedstrijd shirt in de tas. Waar we destijds likkebaarden tegenop keken, hebben we nu zelf ook, een gevoel van trots overheerst
Hoe dichter we bij Zoetermeer komen hoe duidelijker we de zenuwen voelen. Nog heel even en dan breekt het drakengeweld weer los. Op het Zoetermeerse strijdtoneel treffen we (inmiddels ook traditioneel) niet alleen Nederlandse maar ook weer 2 buitenlandse teams: Eglisau uit Zwitserland die dat weekend te gast was bij The Dutch Dragons en de Underwater Dragons uit Duitsland. Het Nederlandse  drakenwereldje is klein, bijna iedereen kent elkaar persoonlijk en het is leuk de ander weer te zien!
De strijd op het water begint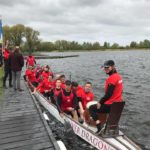 Om 11 uur was het eindelijk zover, de vrienden op de kant veranderden in tegenstanders op het water, de wind waaide hard, de boten lagen opgetuigd, de lootjes waren getrokken, de warming-up was uitgevoerd, de peptalk gedaan: eindelijk konden we de boten in en opvaren naar de start. Wij startte onze eerste race, met The Dutch Dragons aan de ene en de Old Water Dragons aan de andere kant. Het oplijnen verliep moeizaam door de (schijnbaar) immer aanwezige harde wind. Na een paar keer gezamenlijk opnieuw opvaren klonk uiteindelijk het verlossende startschot, de allereerste race was gestart. Onze eerste race loopt zelden als gepland: we lijken er vaak niet klaar voor, de start gaat meestal niet, we vinden het ritme niet, chaos in de boot, of door de zenuwen te snel. Dit keer echter doorbraken we deze traditie. Ondanks de harde wind en de scheve startpositie en het missen van onze eerste slag, herpakte het complete team zich razendsnel. De druk kwam op de peddel zoals we het al zo vaak geoefend hadden, het hele team deed mee en de boot begon te lopen. Tijdens de race voelde het al goed, de boot vloog over het water, het tempo werd snel opgevoerd en zonder eindsprint maakten we de 200 meter af. Goed gevoel, heerlijk gevaren en niet onbelangrijk, als eerste over de finish!!
1e plaats op de 250 meter
YES, de eerste race was binnen en ook nog in een mooie tijd. Ook de volgende heats verliepen zonder veel problemen. Na 3 gewonnen heats plaatsten we ons voor de finale waar we het tegen 2 teams van The Dutch en het Zwitserse team Eglisau zouden opnemen. Alhoewel we goed hadden gevaren met mooie tijden is het altijd maar de vraag of je dat kan vasthouden in die laatste en beslissende race. Nog altijd met dezelfde harde wind maakten we ons op voor de laatste 200 meter van de dag. In baan 1 Eglisau, in baan 2 River Dragons, in baan 3 The Dutch Dragons B-Team en in baan 4 The Dutch Dragons A-Team. Het moeilijke oplijnen begon weer tot eindelijk het verlossende startschot. Elk team start op zijn eigen manier en alle teams leken redelijk aan elkaar gewaagd. De gehele race werd er stuivertje gewisseld om de koppositie. Na de Finish waren er 2 teams die niet helemaal zeker waren van de winst. Zowel bij The Dutch Dragons B-Team als bij de River Dragons werd getwijfeld. De een in het team juichte terwijl de ander met vraagtekens keek naar het andere team. Wist iemand het al zeker? Rustig voeren we weer terug naar onze opstapplek, ondertussen zoekend in het publiek naar iemand die het verlossende woord zou geven. Eerder hadden we aan het gejuich uit "ons kamp" kunnen opmaken dat wij hadden gewonnen maar nu bleef iedereen stil, het stemde niet helemaal hoopvol. Eenmaal aan de kant kwam Ed, onze steun en toeverlaat tijdens deze dag, op de boot aflopen. Pas nadat het voltallig team op de kant stond liet hij met een kleine glimlach en een duimpje weten dat de buit binnen was! De ontlading was oorverdovend……..
JAAAAAAAAAA WE HEBBEN GEWONNEN!!!!!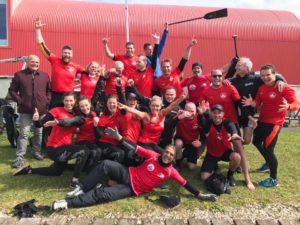 2e plaats op de 2 kilometer
Na heel veel knuffels, foto's, even snel een bak koffie op naar de instructie voor de afsluitende race over 2,5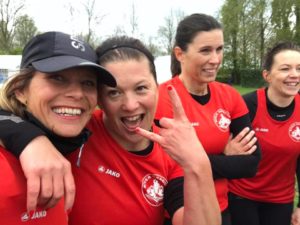 kilometer. Een prachtig parcours met 6 scherpe bochten op onstuimig water. Voor ons en onze nieuwbakken stuurman beloofde het een extra spannende race te worden. Als winnaar van de 200 meter mochten we als laatste starten. Om de 10 seconden voer 1 van de drakenboten weg en uiteindelijk startten we na Eglisau en The Dutch. Gedrieën begonnen we aan de grote inhaalrace. Na een wat wiebelige start kwam het gevoel en het ritme er goed in en startte we de inhaalactie op het team voor ons, The Dutch Dragons. Helaas bereikten we hen pas vlak voor een bocht, inhalen in een bocht moet buitenom wat veel tijd, energie en extra afstand betekend, dus lieten we de boot terug lopen om na de bocht de boot weer op snelheid te brengen en een nieuwe jacht te openen. Voor de 4e bocht was ons eerste doel bereikt, we lieten The Dutch achter ons en zette koers op het team Eglisau.  In de laatste 2 bochten moesten we telkens weer een strijd aan met andere teams dan het team die we eigenlijk graag wilden inhalen. Zelfs na een 200 meter lange eindsprint lukte het ons net niet om de verloren tijd in te halen. Op de 2 kilometer moesten wij in het Zwitserse team Eglisau onze meerdere erkennen!  Ze voeren de afstand uiteindelijk  11 seconde sneller dan wij.
Wij danken The Dutch Dragons voor een goed georganiseerd evenement en nemen  wederom 2 prachtige prijzen en een heerlijk gevoel mee naar ons mooie waterstadje Gorinchem.